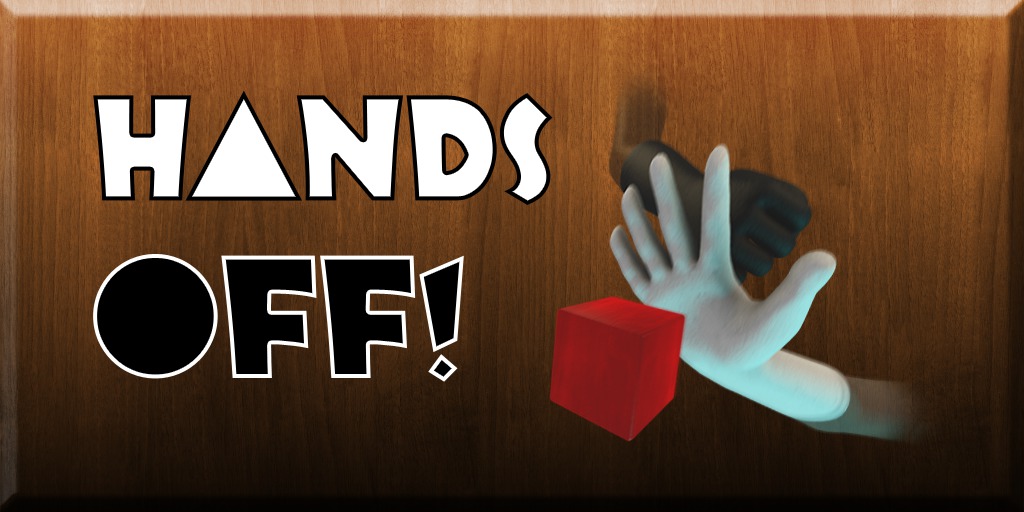 STEAM RELEASE: new game modes, achievements and more for the Steam release of Hands Off! (when it's done!)
---

In a sentence (or two): Hands Off! is a one-on-one ambidexterity-testing, brain-straining, competitive game for PC. It's like a sport where you fight over pegs and try to get them in holes before your opponent does.
Hands Off! v1.1 (released on 2015-05-29) introduces two new arena types, the meddle system and more. Get it below!
The gloves are off. The gauntlet is down. Hands Off! asks "How ambidextrous are you?" and then forces you to prove it.
Hand to hand, you and your opponent are locked in a never ending struggle* to get coloured pegs into their matching coloured holes. You could assume that achieving this wouldn't be difficult. That assumption would be incorrect.
Hands Off! will strain your brain. Three holes, three pegs, four hands (two each!) - that's a lot of things to keep your eyes glued to (literally or figuratively). You can team up with a friend and share your hands, offloading some of your brain strain and struggling with teamwork and cooperation instead.
*individual struggles do in-fact, end
The pegs need to go in the holes. You're going to put them there. Your opponent is also trying to do this. Stop them.
You can be defensive and stop the other player from scoring - if the timer runs out, whoever has the most goals wins. You can be aggressive, smacking the pegs from the other player and using speed and determination to own the arena.
Why not do both at once? You have two hands. Use them!
Purchases on itch.io will redeem Steam keys when we launch there!
Key Features:
Compete with your friends in frantic multiplayer battles
Use your hands (and your brain) in ways you're not used to
Experience a wide variety of arena shapes, themes and behaviours (around 30 possible permutations!)
Smack the Meddle buttons in each arena to mix up the gameplay (and your brains)
Challenge a friend to a one-on-one peg-in-hole battle or play the party modes for 2-4 players (party modes coming in v1.2)
Controllers are a necessity in this game - players control their left hand with the left joystick and their right hand with the right. Shoulder buttons allow for fast peg-grabbing and enemy hand-smacking (liberal use of both is encouraged).
Local multiplayer only - yelling at your opponent when they stop your perfect throw and hearing their cries of despair as you beat them into submission (in-game, of course) is part of the experience! Invite your friends round - the more people watching your conquests the better. Spectator sport!
Hands Off! toured Australia as part of SK Games' Interstate Arcade.
Hands Off! visited AVCon 2015 in the Indie Games Room!
Hands Off! will be appeared at the 2015 GO423 Symposium in August!
We welcome all feedback and constructive criticism - you can send it to:
---